There's always a buzz of excitement when our work turns the heads of an awards committee, and even more so when it's for multiple campaigns. No wonder then that we're absolutely thrilled to receive nods for Display Campaign of the Year and Best Integrated Paid Media Campaign, as well as three nominations for Paid Media Agency Led Campaign of the Year, for our work with Asendia, BSI and IRIS Software at the UK Paid Media Awards.
About the work
Asendia
Our Apparel and Beauty Campaign with Asendia, the global e-commerce giants, is one of our contenders for Paid Media Agency Led Campaign of the Year.
To position Asendia as an industry leader in the Fashion & Apparel and Health & Beauty sectors, we conjured up a comprehensive content-led strategy consisting of blogs, infographics, expert interviews an e-commerce retail calendar and two e-books, all designed to offer quality insights to e-tailers.
That content was then distributed through Google Display and LinkedIn, as well as custom landing pages with gated downloads. A nurture campaign series of emails followed to encourage further engagement between Asendia and potential new customers.
The campaign was a runaway success, totting up a series of impressive metrics including over 250 e-book downloads in the two weeks and a 4.5% conversion rate.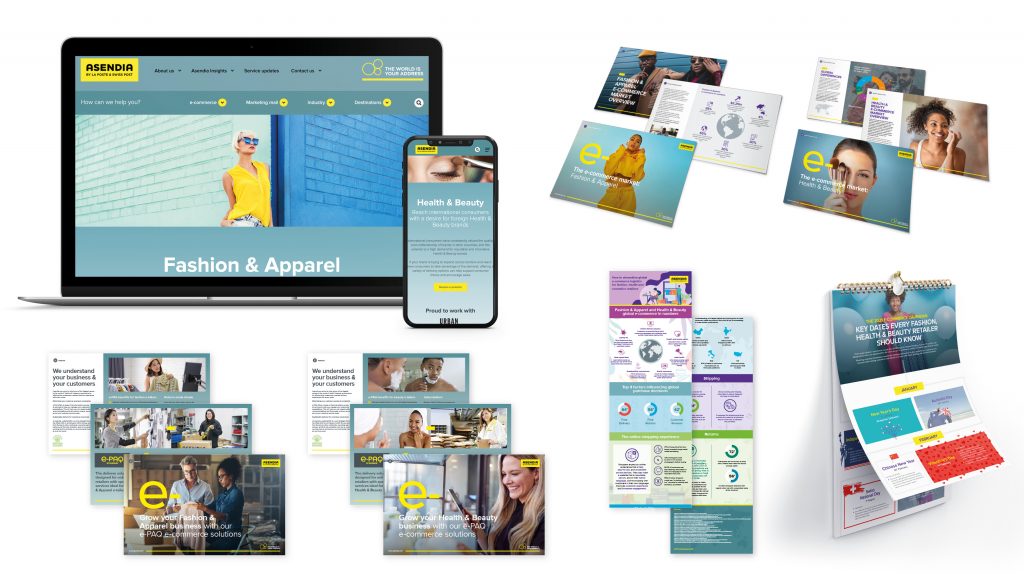 BSI
'Promoting Standards', a test project with BSI, the UK's National Standards Body, is our second campaign to be shortlisted for Paid Media Agency Led Campaign of the Year. To gain precious insights on how to reach and engage SMEs on the topic of standards, we developed a multi-channel strategy.
Through a variety of written and video content, including in-depth implementation guides and case studies, SME audiences were taken on a discovery journey concerning the information security standard ISO/IEC 27001. Testing, polling and optimisation helped the campaign generate over 12.5 million impressions, as well as delivering important learnings that will help to guide future campaigns for BSI.
IRIS Software Group
Another big hit on the awards trail, our 'Masters of Time' campaign with IRIS has the chance to pick up three more trophies come 15th March.
The campaign ran parallel to the UK government's 'Help to Grow' scheme, and was developed to encourage SMEs to invest in digital transformation. The key insight was that, for many small businesses, inefficiencies and time constraints are a huge barrier to investment in growth.
We conceived of the IRIS Masters of Time, a team of superheroes who, by harnessing IRIS's software solutions, could give SMEs the "Time to Grow". Their distinctive visuals and broad message made above the line media and out of home activity a natural avenue for raising brand awareness, so we splashed our heroes across buses, the London tube network and the radio. That approach was combined with digital advertising on Google, LinkedIn, Facebook and in trade publications for a more targeted approach, and a custom-built microsite was built to maximise lead generation.
With over 45,000 views on social media within a month, over 30 million impressions and over 100,000 clicks, it's fair to say that the Masters of Time have earned their place in the Paid Media Agency Led Campaign of the Year, Display Campaign of the Year and Best Integrated Paid Media Campaign shortlists.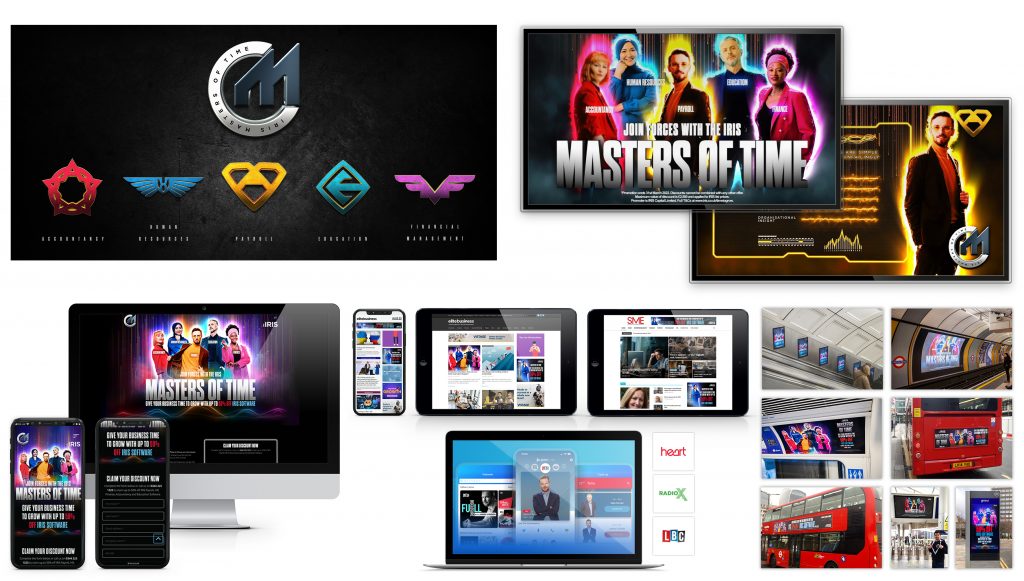 What it means to be nominated
Our Managing Director and Co-Founder, Liam Bateman, said this:
"It's fantastic that in our 30th year, The Think Tank is going from strength to strength. We're very proud of our work with Asendia, BSI and IRIS Software and the amazing results they achieved, so naturally we're delighted that these campaigns have been nominated. Thank you to the UK Paid Media Awards and best of luck to all of our fellow finalists."
About The Think Tank
The Think Tank is a leading B2B marketing and PR agency based in central London. We offer a complete range of award-winning services, including brand development, PR, strategic thinking, tactical marketing campaigns, digital communications, content and design.
Founded on creative thinking, we deliver transformative work that helps our clients thrive in markets across the globe.
Get in touch
For more information, please contact us at: hello@thinktank.org.uk, or call us at +44 (0) 20 7831 2225
You can also find us on LinkedIn,  and Facebook.