Fluid Commerce is the UK's leading Magento web development and performance marketing partner for B2C, B2B and D2C ecommerce brands. Our goal is to help our clients accelerate their business growth profitably and sustainably, transforming them into market leaders whatever their niche.
We do this by channelling more than 10 years of experience, expertise and insights into our clients' ecommerce development and growth.
Our team consists of 30 world-class developers, strategists, planners and innovators, based across the UK and Europe. We provide our clients with the very best skills and industry knowhow, shown by our raft of credentials from Amazon, Paid Social, Google, not to mention our Silver-Level Adobe Solution Partner status for Magento.
Culture
Flexibility is key for us. With our team based across the UK, and different time zones, we've embraced working from home, hybrid working, and flexi-time working for years. Our home, and HQ, is in the distinctly individual Ancoats in Manchester's epi-centre of innovation and tech.
We bring the team together for summer and Christmas parties, regular team drinks, and provide a range of wellbeing initiatives, including:
Wellbeing workshops
Additional holidays for length of stay
Salary sacrifice schemes for additional annual leave
Employee Assistance Programme
Online exercise app and meditation app
Our Nominations
Martin's Chocolatier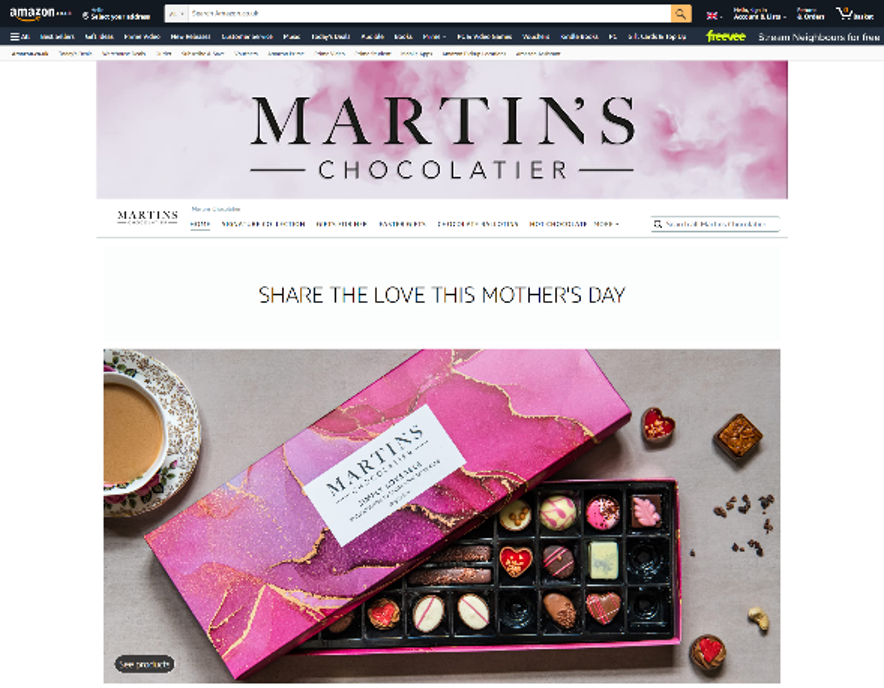 Martin's Chocolatier is an independent chocolate company specialising in artisan European chocolates. For Easter period 2022, their goal was to deliver year-on-year growth at a profitable ACoS in the UK on Amazon.
To achieve this, we first:
Conducted research into competitor and market conditions
Completed a thorough audit of the brand store and advertising strategy
Identified opportunities for quick wins and optimisation
Identified the best products to push based on seasonality fit and stock levels
With this information, we then implemented an aggressive campaign that included:
Sponsored Product Ads
An automatic campaign to increase visibility and harvest more data
Product isolation, with its own campaign
SP brand ASIN protection campaign
Sponsored Brand campaign
Sponsored Display's Views Remarketing campaign
Sponsored Display In-market campaign
As a result, our work produced:
282% increase in revenue from ads
546% increase in New to Brand sales
18% increase in total revenue
"I've been genuinely impressed with the work that Fluid Commerce's Amazon team has achieved for us in a short space of time. Since we started with Fluid, we've seen outstanding work with fantastic results – even ranking above big-name brands on like-for-like products. The team is brilliant at their job, and I couldn't be happier with the performance of the account."
Philip Ahn, Managing Director, Martin's Chocolatier
On being shortlisted
Fluid Commerce has had an extraordinary twelve months against a challenging backdrop of circumstances.
Our success as one of the leading independent eCommerce agencies in the North is a direct result of the investment in a uniquely skilled and motivated team who are dedicated to delivering eCommerce success across paid advertising, Magento eCommerce and marketing for Amazon.
To win the UK Paid Media Awards would establish us as the go-to ecommerce growth agency for retailers that seek that hard-to-find mixture of knowledge, availability, efficiency, care and straight-forward advice and support.
Follow us
Sign up for our newsletter: www.fluidcommerce.co.uk/newsletter-sign-up